---
---
Edward D Walker Marine Artist
Edward D. (Ted) Walker is a world-renowned, professional marine artist who is equally at home painting deep-sea sailing vessels, the majestic Cunard's, RMS Titanic, and countless other ships of all types and eras.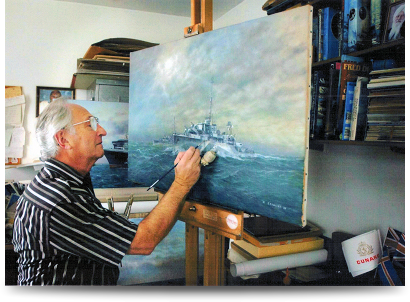 His distinguished career spans more than fifty years and includes famous UK and US historic ships of the civil war era, Irish famine relief, plus, fishing and whaling ships.
Ted Walker's commissions can be found in public, private and royal collections. He is the official artist for the RMS Titanic Artefacts Exhibitions, currently touring Europe and North America, who utilise Ted's Titanic Maiden Voyage painting as their iconic image. The Cunard fleet of luxury liners including Queen Victoria, Queen Mary 2 and Queen Elizabeth, all prominently display Ted's paintings. The UK Royal Mail is yet another of Ted's prestigious clients.
---